IP VPN
Reliable, secure connection for your critical data and apps
IP VPN service gives you the security and service quality of a Layer 3 any-to-any private network, together with the flexibility of Ethernet technology. All services are automatically protected by Ziply Fiber's purposefully-redundant network to minimize the impact of any network disruptions.
SECURE, RELIABLE PERFORMANCE 
why IP VPN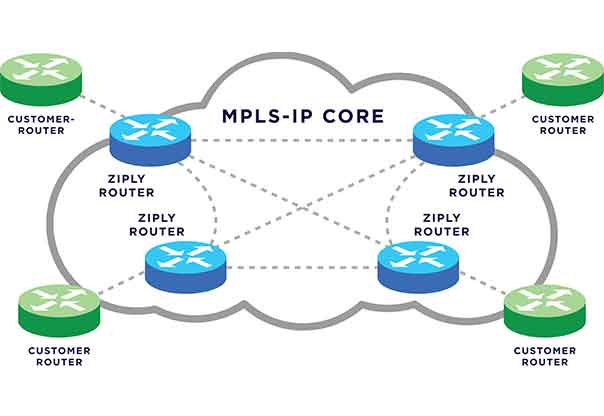 IP VPN Features
Ziply Fiber's IP VPN allows your business to securely manage mission-critical applications and activities, including remote backup, storage area networking and high-capacity and redundant data center connectivity among multiple locations.
Our IP VPN services includes dedicated bandwidth, scalable from 10 Mbps to 10 Gbps (higher bandwidths available on an ICB basis), SLA-backed reliability and private connectivity.
Why Use Ziply's IP VPN
Designed reliability
You can expect 99.999% uptime, which means more productivity. And, you are backed by an industry-leading SLA with distinct measures for throughput.
Faster connections
IP VPN provides dedicated 10 Mbps to 10 Gbps ultra low latency Layer 3 services.
Flexibility/Scalability
Choose the bandwidth speed—from 10 Mbps to 10 Gbps—and delivery method that best meets your business' needs. Once fiber is delivered to your site, it's easy to make upgrades and changes as your business grows.
Who Needs IP VPN?
Organizations who want to seamlessly link devices across multiple locations in geographically dispersed areas.
Businesses that use sensitive applications like video streaming, VoIP, remote desktops, distance learning and corporate training.
Operations that require secure private networking, dependable, 24/7 connection and equally fast uploads and downloads.
Medical offices that need to securely share sensitive patient information and large files.
Educational organizations looking for ways to support digital learning and connected device initiatives in the classroom.
Companies needing to reliably and securely connect data centers or colocations.
GET IN TOUCH
Let's talk about how our IP VPN solution can help your organization become better connected.