Optimize your network with SD-WAN
The power of SD-WAN—on the Northwest's best, fastest network for business—means always-on reliability.
What is SD-WAN?
SD-WAN provides simplified, centralized cloud management for security, networking and application control. This reduces operational costs and improve resource usage for multi-site deployments, allowing network administrators to use available bandwidth more efficiently and ensure the highest possible level of performance for critical applications. Inherent comprehensive security includes a stateful firewall and integrated advanced security to protect networks from ever-changing vulnerabilities.
SD-WAN combines multiple physical WAN links into one logical network and provides traffic prioritization to accelerate application performance. It improves the economics of branch connectivity by enabling organizations to leverage inexpensive circuits, such as the internet, to address growing bandwidth requirements. SD-WAN is relatively easy to deploy and manage as it maps new services such as application prioritization, security and management on top of existing physical networks.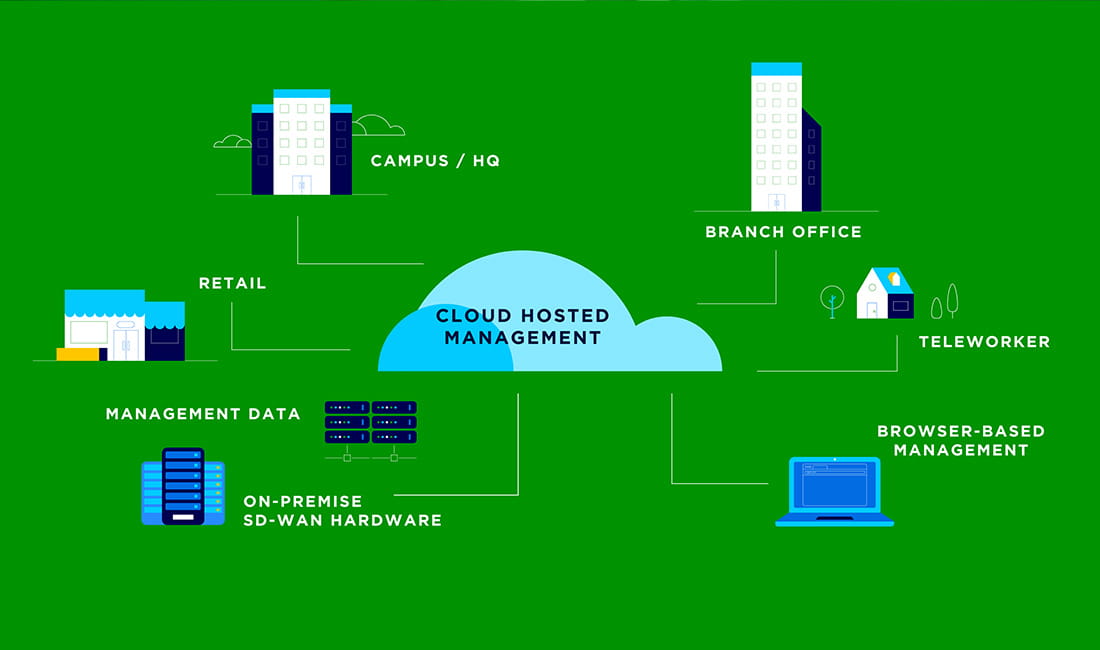 SD-WAN is a software-defined approach that moves network traffic management away from hardware and premises to a fully managed, cloud-based system with increased security, reliability and efficiency.
Using a centralized control function, SD-WAN directs traffic securely, intelligently and directly to trusted providers, boosting application performance and improving user experience.
GET IN TOUCH
Learn more about Ziply Fiber SD-WAN. Call us at 1-888-688-0016 or fill out the form below. 
When reliability is everything.
Optimize your network & protect your data with SD-WAN.
Fail Safe
Mission-critical failovers, easy site connection & rule set application across diverse WANs
Smart
Scalable, efficient, cost-effective & fully managed with 24/7 support by local experts
Secure
Intrusion protection, firewall, antivirus, site-to-site & client VPN & more
Technical Features
Real-time and historical analytics and reporting featuring network visibility and performance monitoring for latency, jitter and loss
Intelligent routing and control including dynamic path selection
Flexible WAN Designs

Deployment options that include bundled, over-the-top (OTT) or tailored solutions
Support for up to two WAN ports
Support for various connectivity options including dedicated internet and broadband
Integrated Advanced Security

Stateful firewall
Geo-IP base firewall rules
Content Filtering
IDS/IPS
Site-to-Site auto VPN: securely connects branch locations using mesh or hub and spoke technologies
Provides PCI compliant cloud-based management
Service that includes design, deployment, configuration, site activation, appliance/circuit monitoring and event management, appliance and software updates
24/7 support
Why Ziply Fiber?
Because everything works better on the Northwest's best, fastest network for business.
In most cases, we build to suit. When that's not possible, remote locations can be reached via an extended footprint (EFP) option where capacity is delivered via a third-party provider. Either way, we'll manage the circuit end-to-end.
We place an SD-WAN device that provides all the networking intelligence as part of the standard installation.
We strive to get you up and running as fast as possible. Installation intervals vary based on fiber construction, permitting, right-of-entry and other factors. If fiber is already established in your building, the installation timeframe will be much shorter.
We will provide your IT manager with status updates throughout the installation process as well as timeframes for work they need to complete, including any network configuration changes.
It depends on the complexity of your network. In most cases, turning up an SD-WAN connection does not require IT support other than answering the technical support questions Ziply Fiber uses to configure the network. You are free to use your own IT resources.
With SD-WAN, customers can see all aspects of the network right from the portal. Standard with all applications is the ability to see usage reports by circuit, device and user. This knowledge helps determine the strengths and gaps of the network.
Only network administrators are granted access to the portal. They can produce and review reports at will in compliance with the customers own internal policies.
Administrators must be assigned by Ziply Fiber. Contact Support at 888-488-0072 (4427 opt 3), available 24/7.